Sorrento, on Victoria's Mornington Peninsula is something of a playground. Today, the coastal town came to a standstill for one of its own.
John McCarthy.
At just 22 years of age, McCarthy died last week while on an end of season trip with 11 of his Port Adelaide teammates to Las Vegas.
Inexplicably, he'd broken away from the main group, falling to his death from a hotel roof some four kilometers from the hotel where he and his mates were staying.
But while many questions remain unanswered, this was not the day to be asking them. This was a time to farewell John McCarthy and reflect on all those things that were good about him... and in "Johnny" there was much to admire.
So respected was he as a footballer and a person, around 2000 mourners filled a local church and a giant marquee which had been set up to cater for those who couldn't squeeze in.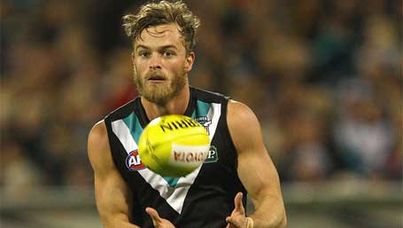 Among the mourners, AFL chief Andrew Demetriou, representatives from each AFL club and his mates from the Sorrento Football Club. They won the Grand Final last week in his honour.
John McCarthy would've liked that... and he would've been humbled by the turnout of the two AFL clubs that gave him the chance to fulfill his childhood dream of becoming a league footballer.
Collingwood and Port Adelaide. Players, coaching staff and administrators arrived en masse to farewell their mate. He'd spent four years at Collingwood before being traded to Port.
You can be de-listed as a player. But never as a mate.
Although McCarthy won't be remembered as a champion footballer he will be credited as being a courageous one.
It wasn't hard to ascertain today where that courage came from.
His mother Cath stood before the mourners to tell of the John McCarthy she knew... and no one knows a son better than a mother.
She told how John would pray each night for his family.
Today, sadly, the prayers were for John.
"In our family there are no handshakes. Just kisses and hugs," she said.
Now, those kisses and hugs will only be shared in dreams as the McCarthy family tries to move on from this nightmare.
"We won't dwell on what might have been... but cherish what was," the grieving mother told those who'd come to farewell her son.
The farewell was something to behold.
Had it not been so tragic, the scenes along the main street of Sorrento would've been wonderful.
The hearse carrying John McCarthy slowly made its way down that street, flanked by thousands.
No applause, no cheers... just a silent farewell.
A chance perhaps for some gentle reflection on a remarkable young man.
For one final time he was surrounded by those who loved and adored him.
For one time time he would stroll that familiar street with the Sorrento sun streaming down.
John McCarthy would've liked that.
© ninemsn 2014
Do you have any story leads, photos or videos?